Informal Group
Szymon Michlewicz-Sowa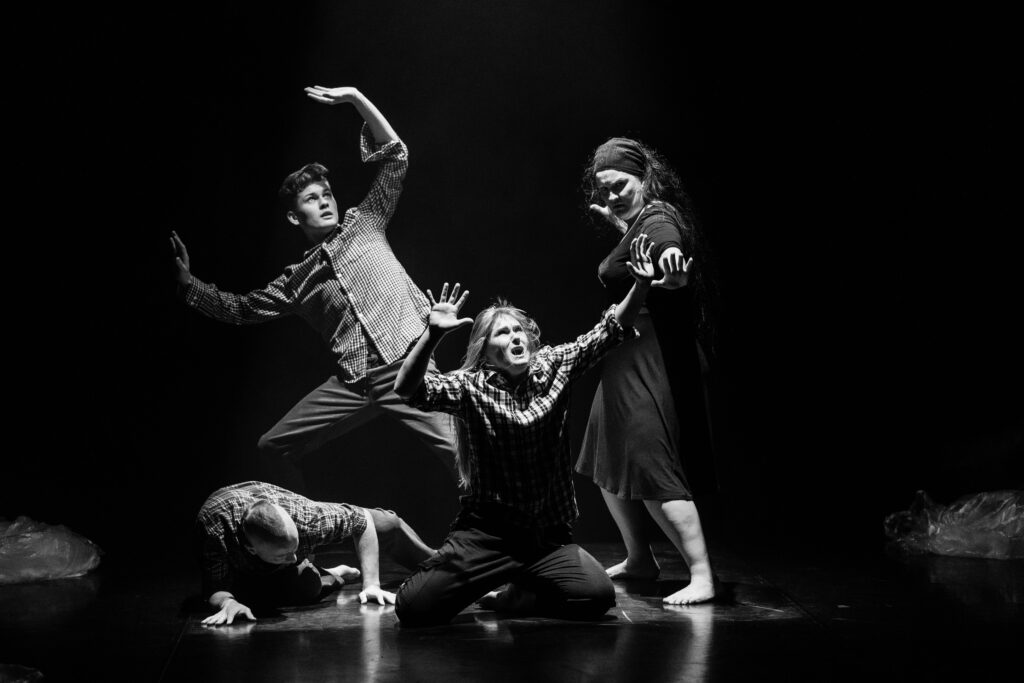 Canaries,
photo Krzysztof Kadis
The producers of 'Canaries' are an informal group of artists selected in the 'ROZBARK_new perspective' competition organised by the ROZBARK Theatre in Bytom in order to produce a performance based on the history of the Rozbark mine. The performers are mainly graduates of the National Academy of Theatre Arts in Kraków and the Dance Theatre Department in Bytom. The main idea behind the performance was to pair word and movement, working on the border between dance and dramatic theatre.

Performance
Canaries
Company
Szymon Michlewicz-Sowa
Credits
Szymon Michlewicz-Sowa

Choreographer

Gabriel Gietzky

Director

Michał Zdrzałek

Composer

Tomasz Berek

Video designer

Anna Berek

Dancer

Agnieszka Raj-Kubat

Actress

Szymon Michlewicz-Sowa

Dancer

Filip Wójcik

Dancer
Performance synopsis
Canaries in mines are representatives of the species serinus canaria sensorem and should go under that scientific name. The image of canaries – yellow, hard to capture, full of twittering and trills – does not harmonise with the darkness grasped in mine metaphors. And yet, a closer look reveals that these images are analogous. Darkness and danger, joy and community – canaries always sing for someone – and unexpected death lurking in the nooks of the underground. All these are united in 'Canaries'.
Duration

55"

Crew *

8

Artists

4

Premiere

2020-10-17, Bytom

Audience

adults

Warnings
* cast plus technical support
Contact
Promotional details
The project was financed by the National Center of Culture in the context of the 'Kultura – Interwencje 2020' program.
The performance was produced by Bytomski Teatr Tańca and Ruchu Rozbark.
This information has been provided by the person or organisation in question.
The National Institute of Music and Dance and the Adam Mickiewicz Institute
are not responsible for its contents.