NGOs
Pracownia Fizyczna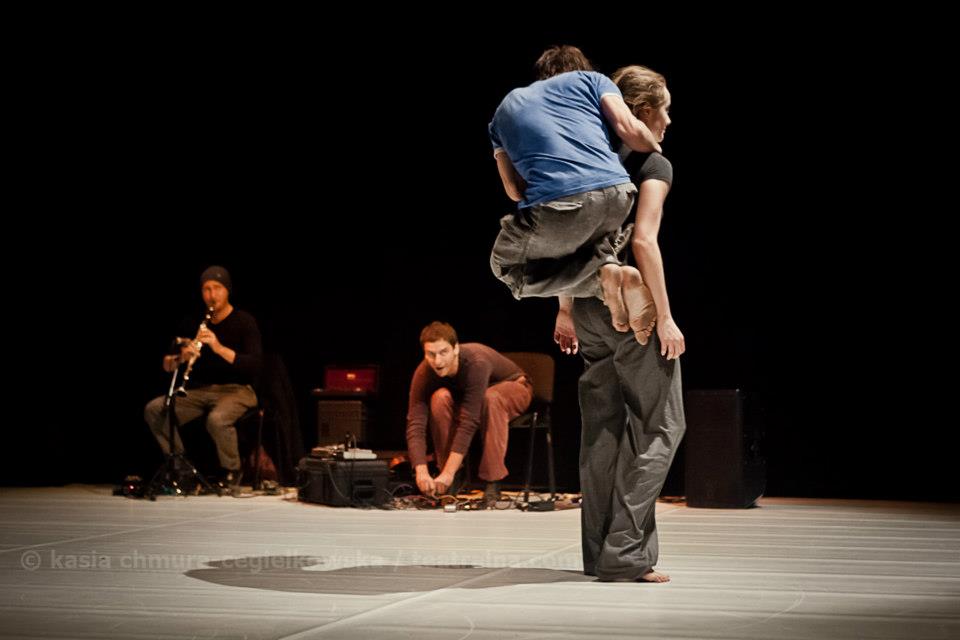 Happenings,
photo Katarzyna Chmura-Cegiełkowska
Pracownia Fizyczna is a group founded by Jacek Owczarek in 2009. It is based at the Grażyna and Kiejstut Bacewicz Academy of Music in Łódź. In 2011, Pracownia was invited to perform 'Happenings' at the Museums Quartier in Vienna, with the participation of guest dancers from Austria and Hungary and an international cast of improvising musicians.

Events
Sic! International Dance Improvisation Festival
2012, Warsaw
'You Come, We'll Show You What to Do: On Dance Improvisation' – exhibition at Muzeum Sztuki in Łódź
2013, Łódź
Treffpunkt, Lander Festival Polen
2013, Stuttgart
Museums Quartier
2011, Vienna
Tanz Moderne Tanz, Internationales Festival für Zeitgenössischen Tanz
2015, Chemnitz
Performance
Happenings
Company
Pracownia Fizyczna and SzaZa
Credits
Jacek Owczarek

Concept, direction and running of the show

Paweł Szamburski

Live music

Patryk Zakrocki

Live music

Iwona Olszowska

Dancer

Dawid Lorenc

Dancer

Paweł Grala

Dancer

Krzysztof Skolimowski

Dancer

Ilona Gumowska

Dancer
Performance synopsis
'Happenings', by Pracownia Fizyczna and the band SzaZa, is filled with dancing on the edge of risk. The score of the events was inspired by process work and contact improvisation. It is based on working with sensual channels and changes of reference points such as movement, voice, partner. The nature of the performance, which has received consistently vivacious responses from audiences for over a decade, reflects the term 'playfulness' as introduced by theatre anthropologist Victor W. Turner.
Duration

50"

Crew *

10

Artists

8

Premiere

2011-01-24, Łódź

Audience

adults
* cast plus technical support
This information has been provided by the person or organisation in question.
The National Institute of Music and Dance and the Adam Mickiewicz Institute
are not responsible for its contents.