Institution
The Tadeusz Sygietyński National Folk Song and Dance Ensemble 'Mazowsze' at Karolin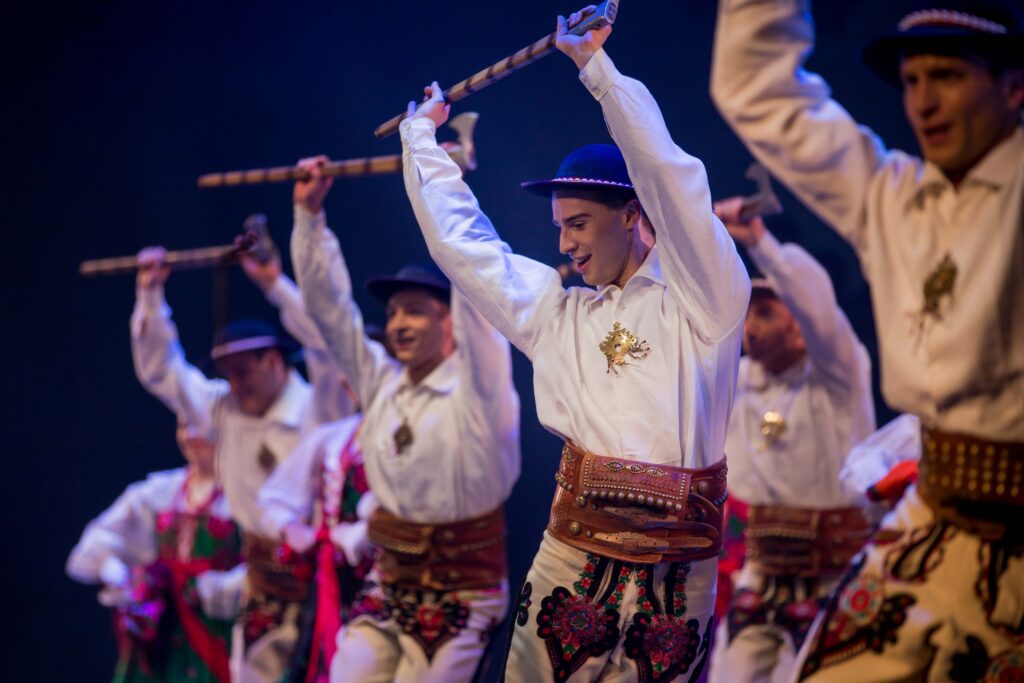 The Kaleidoscope of Polish Colors,
photo Ewa Żukowska, PZLPiT "Mazowsze"
'Mazowsze' is one of the largest artistic ensembles in the world, presenting the richness of stylised folklore. Because of its multi-regional character and its efforts in the preservation of cultural heritage, it is recognised as a national ensemble. For 72 years, it has kept audiences worldwide enthralled, and is seen as an 'Ambassador of Polish Culture'. Through music, song, dance and by presenting traditional musical instruments, the ensemble shows the diversity and beauty of Polish folklore.

Events
'Mazowsze' tour of Iceland
2019, Keflavik, Selfoss, Reykjavik
'Mazowsze' concert celebrating the 15th anniversary of Poland's membership in the European Union, at the EU Council Headquarters
2019, Brussels
'Mazowsze' tour of Germany
2018, Iserlohn, Hamburg, Kiel, Brunswick
'Mazowsze' concerts in Irkutsk
2018, Irkutsk
'Mazowsze' concerts in Vilnius
2018, Vilnius
'Mazowsze' tour of France
2017, Paris, Amiens, Caudry, Lievin, Lille
9th China International Folk Arts Festival
2013, Yichang, Beijing
'Mazowsze' tour of Israel
2011, Rishon LeZion, Modi'in-Maccabim-Re'ut, Beersheba, Petah Tikva
'The Magnificent Mazowsze' tour of the USA and Canada
2010, Toronto, Philadelphia, Hamilton, Chicago, Baltimore, New York, Pittsburgh, Cleveland
Prizes
Gold Medal for Merit to Culture – Gloria Artis for the Tadeusz Sygietyński National Folk Song and Dance Ensemble 'Mazowsze'
2018, Warsaw
The flag of Poland presented to the 'Mazowsze' Ensemble by the President of Poland, Andrzej Duda, for special merit in social, cultural and economic activity
2016, Warsaw
The Minister of Sport and Tourism Award 'For Merit in Tourism'
2014, Warsaw
The Pro Masovia Medal
2013, Warsaw
Gold record for the CD album 'Polish Christmas Carols' and for the DVD '60 Years of Mazowsze'
2012, Warsaw
European Award for Tourism statuette, awarded by the European Tourist Press Federation
2006, Karolin
Medal awarded by the Polish Radio on the 80th anniversary of radio broadcasting in Poland
2006, Warsaw
Grand Prize at the 6th China International Folk Arts Festival in Huangshan/Beijing (statuette), and a mention for participation in the event
2004, Huangshan
The Annual Honorary Award of the Minister of Culture and National Heritage for the Year 2000
2001, Warsaw
United Nations Silver Medal
1973, New York
Performance
The Kaleidoscope of Polish Colors
Company
The Tadeusz Sygietyński National Folk Song and Dance Ensemble 'Mazowsze' at Karolin
Credits
Tadeusz Sygietyński

Music and musical arrangement

Mira Zimińska-Sygietyńska

Costumes and scenography

Witold Zapała

Choreographer

Eugeniusz Papliński

Choreographer

Elwira Kamińska

Choreographer

Zbigniew Kiliński

Choreographer

Janina Marcinkowa

Choreographer
Performance synopsis
Colors changing as in a kaleidoscope, music bringing unforgettable emotions, lots of dancing and singing – this concert presents the most popular songs and the most captivating choreographies from the 'Mazowsze' Ensemble's repertoire. Audiences can also admire the beautiful costumes from different ethnographic regions of Poland. In the whirlpool of colours, there will be national dances: the polonaise, krakowiak, oberek, mazur and kujawiak, as well as regional dances, with their characteristic, original chants.
Duration

150"

Crew *

170

Artists

150

Premiere

2013-03-10, Otrębusy

Audience

everyone (regardless of age)
* cast plus technical support
This information has been provided by the person or organisation in question.
The National Institute of Music and Dance and the Adam Mickiewicz Institute
are not responsible for its contents.