Artist
Maria Zimpel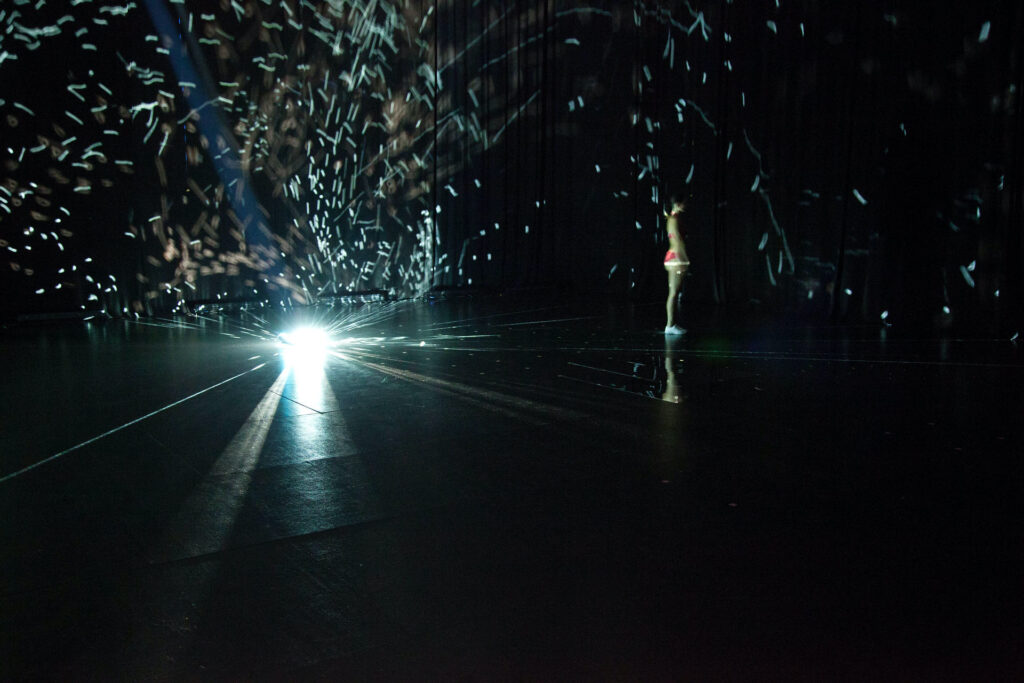 'Space Gives Place',
photo Vera Drebusch
The creator of many solo and collaborative projects, Maria Zimpel draws on somatics and autobiographical abstraction. She has worked as a dancer with Rosalind Crisp, Isabelle Schad and Kat Valastur. She studied Dance, Choreography and Context at HZT at UdK, as well as Cultural Studies at UAM in Poznań. The recipient of a DanceWEB Scholarship in 2009, she was also part of European Platform AerowavesTwenty16 and the Polish Dance Platform in 2017 with 'noish~'. Zimpel was a 2019/2020 choreographer in residence as part of the K3|Tanzplan Hamburg scholarship.

Events
Claudio von Planta
2021, Susch
Hammer Deich Dance Studio (5-month-long studio visit)
2021, Hamburg
Premiere of 'Space Gives Place' in K3|Tanzplan Hamburg/KAMPNAGEL
2020, Hamburg
10-month-long Choreographic Residency in K3|Tanzplan Hamburg/KAMPNAGEL
2020, Hamburg
Choreographic residency in DeVir CAPa
2019, Faro
Performance of 'noish~' in DNK
2019, Sofia
Short residency and performing 'noish~' for the opening of the choreograhic program 'Aczium Susch' in Muzeum Susch, Art Stations Foundation by Grażyna Kulczyk
2019, Susch
Performance of 'noish~' at Žižkovská Noc 2018
2018, Prague
Prizes
'Body and Fiction' preselected for the Polish Dance Platform
2019, Warsaw
Performance of 'noish~' at Polish Dance Platform
2017, Bytom
Performance of 'noish~' at Aerowaves Twenty16
2016, Europe
Performance
'Space Gives Place'
Company
Maria Zimpel
Credits
Maria Zimpel

Choreography, dance

Wacław Zimpel

Music

Dorota Kabała |We design for physical culture

Light, costume, props

Anna Joniak |Fashion School in Poznań

Costumes realised in collaboration with

Jana Köster

Lighting technical realisation

Niklaus Bein

Dramaturgy

K3|Tanzplan Hamburg

Production
Performance synopsis
Choreographic layers emerge from a gravitational field, repeating themselves, revealing geometric grids and forming polyphonic rhythms. Space becomes movement, a wave, a field. Space happens, and we become part of the event. Maria Zimpel's choreographic research references quantum physics, quantum gravity, and perception in motion. Using modular choreographic systems, she releases physicality to create her own dance language. Can you hear space dancing?
Duration

70"

Crew *

2

Artists

1

Premiere

2020-10-16, Hamburg

Audience

adults
* cast plus technical support
Contact
Promotional details
Special thanks: DeVir CAPa, Faro; Contemporary Art Centre CSW/Ujazdowski Castle, Warsaw; Stary Browar Nowy Taniec/ASF by Grażyna Kulczyk in Posen; Aicha Diakite; Elli Pomoni
This information has been provided by the person or organisation in question.
The National Institute of Music and Dance and the Adam Mickiewicz Institute
are not responsible for its contents.