Informal Group
The Dance Company AWF Poznań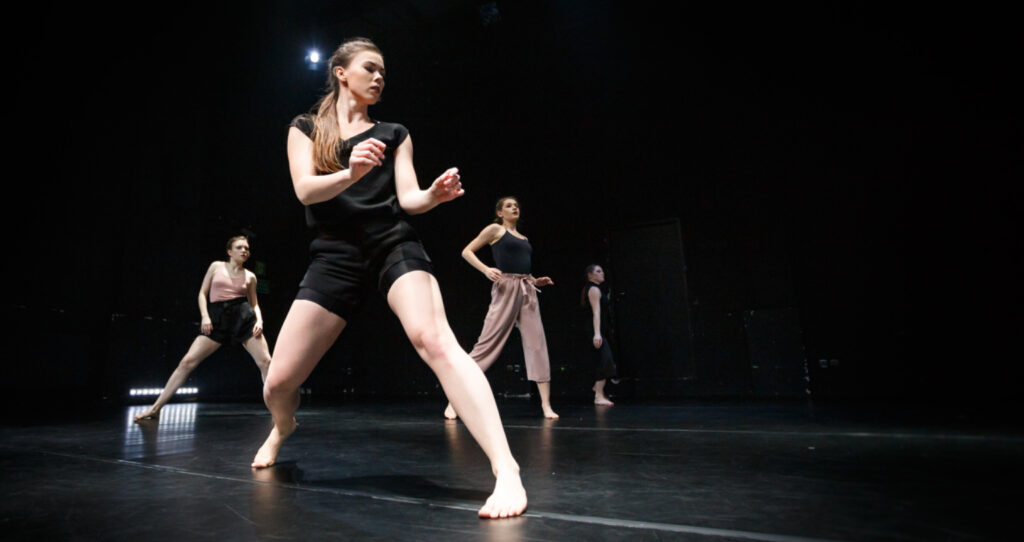 Embodied thought,
photo Piotr Bedliński
The Dance Company AWF Poznan is a contemporary dance group at the E. Piasecki Faculty of Physical Culture Sciences of the Academy of Physical Education in Poznań. It was established at The Dance Institute in 2016 by the artistic director and choreographer Agnieszka Doberska, MA. The company consists of invited students of the Dance department. In 2017, the company made its debut in the play 'If I knew', and in 2018, it produced the performance 'Embodied thought'.

Events
Polish Theatre in Poznań
2018, Poznań
First edition of Tama Contemporary Dance
2019, Poznań
Warsaw Dance Days
2019, Warsaw
Performance
Embodied thought
Company
The Dance Company AWF Poznań
Credits
Agnieszka Doberska

Choreographer

Katarzyna Leszek

Dancer

Weronika Skórzewska

Dancer

Nikolina Wrona

Dancer

Marta Szostecka

Dancer

Kinga Furmaniak

Dancer

Joanna Kukiełka

Dancer

Joanna Kuczora

Dancer

Aleksandra Piasta

Dancer

Oliwia Lech

Dancer

Damian Drozd

Dancer

Wojciech Furman

Dancer

Bartek Dopytalski

Dancer

Filip Hylewicz

Dancer

Partyk Gorzkiewicz

Dancer

Miłosz Tulewicz

Lighting designer
Performance synopsis
The performance 'Embodied thought' is a philosophical journey of the mind in the body, both literally and figuratively. Quoting one of the modern Pythagoreans from the Greek island of Gavdos: 'It is better to travel with someone. Then one says: let's go there, and the other says: no, let's go the other way. And when there is a third, he wants to go elsewhere. Finally, they don't go anywhere, and instead they start talking. And here's a place for philosophy.'
Duration

50"

Crew *

16

Artists

14

Premiere

2018-06-12, Poznań

Audience

adults

Warnings

loud music, strobe lights
* cast plus technical support
This information has been provided by the person or organisation in question.
The National Institute of Music and Dance and the Adam Mickiewicz Institute
are not responsible for its contents.