Artist
Iza Szostak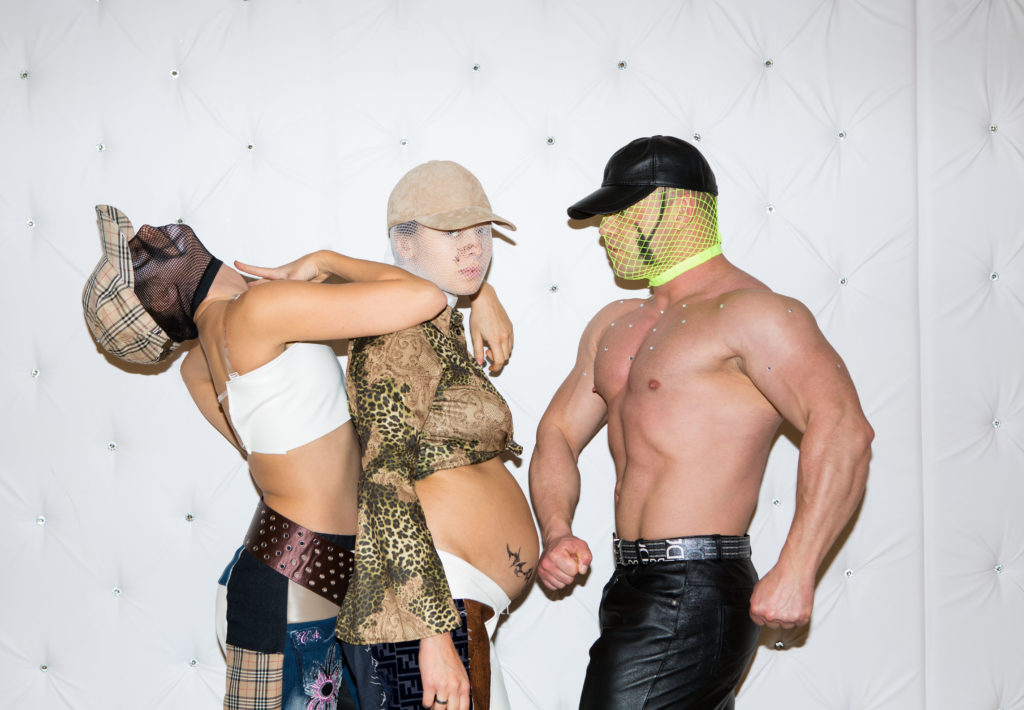 Skaj Is the Limit,
photo Yulia Krivich, Iza Szostak
Iza Szostak is a dancer-choreographer. In her practice, she applies the perspective of new materialism as a tool allowing her to perceive matter as an active and instrumental force. Her choreographic works are often based on made-up systems which communicate the body through objects. She is a graduate of the Warsaw Ballet School and the Rotterdam Dance Academy in Holland. She has created the performances: 'Excavatory Ballet', 'National Affairs', 'le journal secret' and 'Skaj Is the Limit'.

Events
'Exegesis' – a live VR meditation (online showing) produced by Dream Adoption Society in cooperation with La MaMa Experimental Theatre Club and CultureHub
2020, New York, Warsaw
'MOVING ISOLATION' – a digital dance and music project realised through Anna Holter + Company
2020, San Francisco, Stockholm, Warsaw, Copenhagen, Porto, Düsseldorf, Essen, Berlin, Vienna, Montpellier, Tokyo
Residency at Alte Rumfabrik
2019, Basel
'WannaBe' at Studio Hrdinu, Visegrad Scholarship, residency and work in progress
2018, Prague
The International Theater Festival, Fest(in) on the Boulevard
2018, Bucharest
The Festival of Polish Dance in San Sebastian
2016, San Sebastian
Festival NORMA
2016, Ostrava
'600 steps' interdisciplinary project in collaboration with the Taldans collective
2014, Istanbul, Warsaw
Residency (studio visit) at Pingerii, Westfjords – presentation of 'Visitors' at the Reykjavik Dance Festival, Body/Mind Festival
2014, Pingerii, Reykjavik, Warsaw
Prizes
Art House Residency Programme
2020, Warsaw
Choreographic residency at the Ujazdowski Castle Centre for Contemporary Art in cooperation with the Institute of Music and Dance
2019, Warsaw
Visegrad Scholarship implemented in cooperation with Studio Hrdinu
2018, Prague
SPAZIO international platform for young choreographers
2013, Amsterdam, Poznań, Zagreb, Basano del Grappa
Body.Child.Object artistic residency as part of Modul-Dance – Carte Blanche, DeVIR / CAPa, Portugal
2013, Faro
Artistic Scholarship of The Ministry of Culture and National Heritage
2012, Warsaw
Performance
Skaj Is the Limit
Company
Iza Szostak
Credits
Iza Szostak

Concept, choreography, performance

Karolina Mełnicka

Concept, set, costumes, graphics

Anka Herbut

Dramaturgy and text

Kuba Słomkowski

Music and lyrics

Gilberto Bautista Ortiz

Music/featuring

Kamil Balicki

Performance

Tatiana Dziewanowska

Performance

Dominik Skrzypkowski

Curator
Performance synopsis
Transformation is a transition stage, when the previous system no longer works and the new one has yet to be fully implemented. The social, political and physical body are all being transformed. Iza Szostak has designed a non-normative reality, in which objects choose to exist outside the reproductive time of heteronormativity. The performance queers the transformation archive, validates failure and weakness, taking the viewpoint of fake luxury goods – ever-present, living witnesses to history.
Duration

50 "

Crew *

7

Artists

5

Premiere

2019-11-30, Warsaw

Audience

adults

Warnings

violence, loud music, mature language
* cast plus technical support
Contact
Promotional details
The presentation was part of the Choreography Residences programme in Ujazdowski Castle 2019, carried out in collaboration with the Institute of Music and Dance.
This information has been provided by the person or organisation in question.
The National Institute of Music and Dance and the Adam Mickiewicz Institute
are not responsible for its contents.