Artist
Gosia Mielech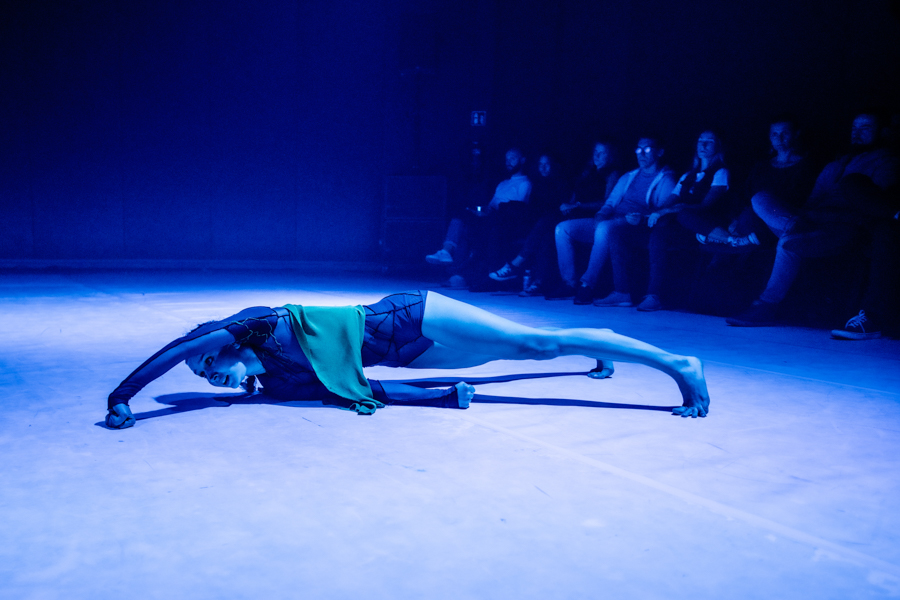 FearLess,
photo Maciej Zakrzewski
'FearLess' is a performance created by Gosia Mielech – a dancer, choreographer, dance educator, Gaga teacher and a founder of the artistic project DanceLab. Physical contemplation regarding fear is the main topic around which the performative reality exists. Thanks to a thorough analysis of the subject and interviewing various individuals, Gosia Mielech has depicted fear as a common, culturally universal, social-semantic construct, which can condition the lives of every one of us.

Events
National tour of 'FearLess' within the Polish Dance Network
2021, Kraków, Warsaw, Sopot, Olsztyn, Kielce, Gliwice
Teaching Gaga to dancers at T.H.E. Dance Company and at LASALLE College of the Arts
2020, Singapore
Asian premiere of 'FearLess'
2019, Bangalore
Gaga workshops for dancers and non-dancers
2019, Mumbai, Bangalore
Polish premiere of 'FearLess'
2019, Poznań
European premiere of 'FearLess'
2019, Moss
Teaching Gaga at the TANZAHOi Festival
2019, Hamburg
National premiere of 'Halka' at the National Opera House
2019, Warsaw
Teaching Gaga workshops at DOXTUDIO
2019, Ghent
Prizes
Artistic Scholarship from the Ministry of Culture and National Heritage
2020, -
Nomination for the Young Art Award in Dance
2020, Poznań
Winner of an open Poland-wide competition for evenings of dance to be added to the Polish Dance Network Pool 2020
2019, -
Most Abstract Idea Award at the Licht.Blicke Festival
2015, Nurnberg
Artistic residency at Uferstudios
2013, Berlin
Performance
FearLess
Company
Gosia Mielech DanceLab
Credits
Gosia Mielech

Choreographer

Gosia Mielech

Dancer

Anna Suda/An On Bast

Composer

Maciej Murlik

Lighting designer

Katarzyna / Kata Kwiatkowska

Costume designer
Performance synopsis
Fear – a tribal emotion that brings survival and destruction, a slimy creature that slides under your skin and poisons your blood. The fearless woman's litany against fear is: 'I must not fear. Fear is the mind-killer. Fear is the little-death that brings total obliteration. I will face my fear. I will permit it to pass over me and through me. And when it has gone past, I will turn the inner eye to see its path. Where the fear has gone, there will be nothing. Only I will remain.' – Frank Herbert
Duration

40"

Crew *

3

Artists

1

Premiere

2019-09-18, Moss, Norway

Audience

everyone (regardless of age)

Warnings

loud music, strobe lights, direct physical contact with audience members
* cast plus technical support
This information has been provided by the person or organisation in question.
The National Institute of Music and Dance and the Adam Mickiewicz Institute
are not responsible for its contents.