Artist
Dorota Michalak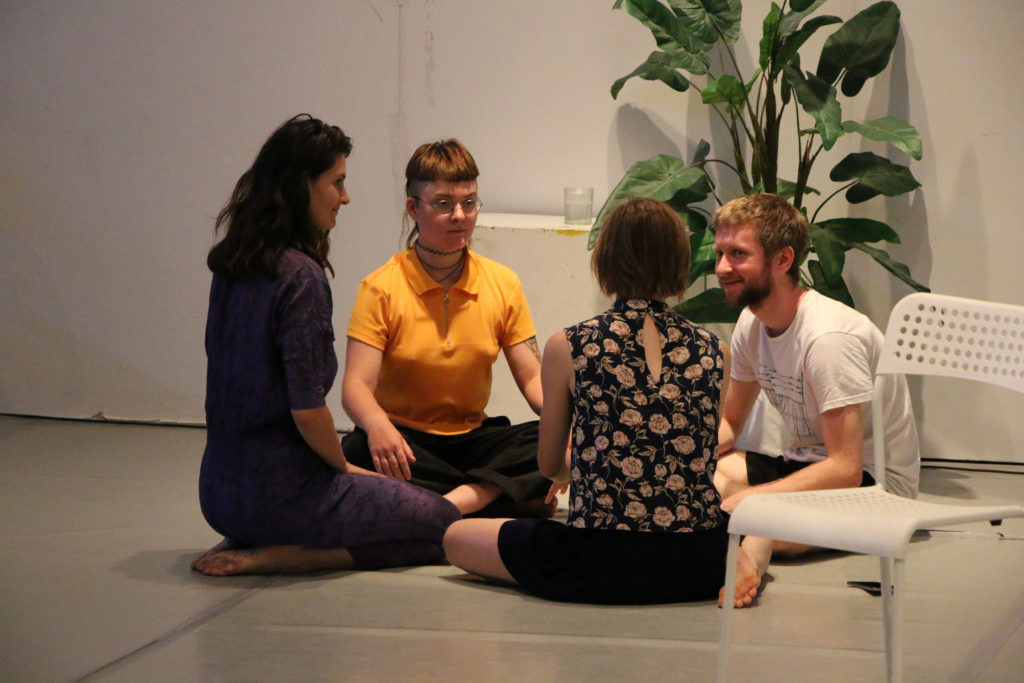 Doing things in front of others,
photo Kimura Byol
Dance artist, cultural worker; born in Konin, 1992; graduate of Tanz, Kontext, Choreographie (HZT/Berlin) and Central European Studies, Intercultural Communication (UAM/Poznań). Dorota's work unfolds around materiality, physical practice and processes of creating meaning; it is put in motion by the intermingling of physical conditions, embodied knowledge and abstract concepts. To place it in theoretical discourse: rooted in queer phenomenology, new materialism and critical semiotic approaches.

Events
ECHO HOUSE
2019, Montreal
White Wall Studio
2019, Montreal
Isabelle Schad
2019, Essen
Magdalena Meindl
2019, Berlin
Xarkis Festival Residency
2018, Koilani
Dance in Response Festival
2017, Hamburg
Seven States of Matter Collective
2017, Berlin
Forough Fami
2017, Berlin
Attack the space
2016, Caen
Prizes
DanceWEB Scholarship
2020, Vienna
PROMOS Grant
2019, Berlin
'Młoda Polska' Scholarship from the Polish Ministry of Culture and National Heritage
2018, Warsaw
Alternative Dance Academy Scholarship from the Art Stations Foundation by Grażyna Kulczyk
2015, Poznań
Performance
Doing things in front of others
Company
Dorota Michalak
Credits
Dorota Michalak

Concept, choreography & performance

Borys Słowikowski

Choreography & performance

Lena Czerniawska

Choreography & performance

Burdock Jenkins-Crumb

Choreography & performance

Miri Chekhanovich

Choreography & performance
Performance synopsis
A performance based on the fragility of improvisation and (impersonal) affect which becomes a common ground for everyone engaged in the situation – both dancers and spectators. Stretching time, careful navigation of the gaze, following the inner dance of attention – this sets in motion a cascade of co-incidences that make space for various feelings and fabulations to arise. The performance has been developed together with the practice of 'working with the obvious'.
Duration

30"

Crew *

7

Artists

5

Premiere

2019-02-09, Berlin

Audience

everyone (regardless of age)
* cast plus technical support
Contact
Promotional details
Supported by the HZT Berlin
This information has been provided by the person or organisation in question.
The National Institute of Music and Dance and the Adam Mickiewicz Institute
are not responsible for its contents.