Informal Group
BesKitu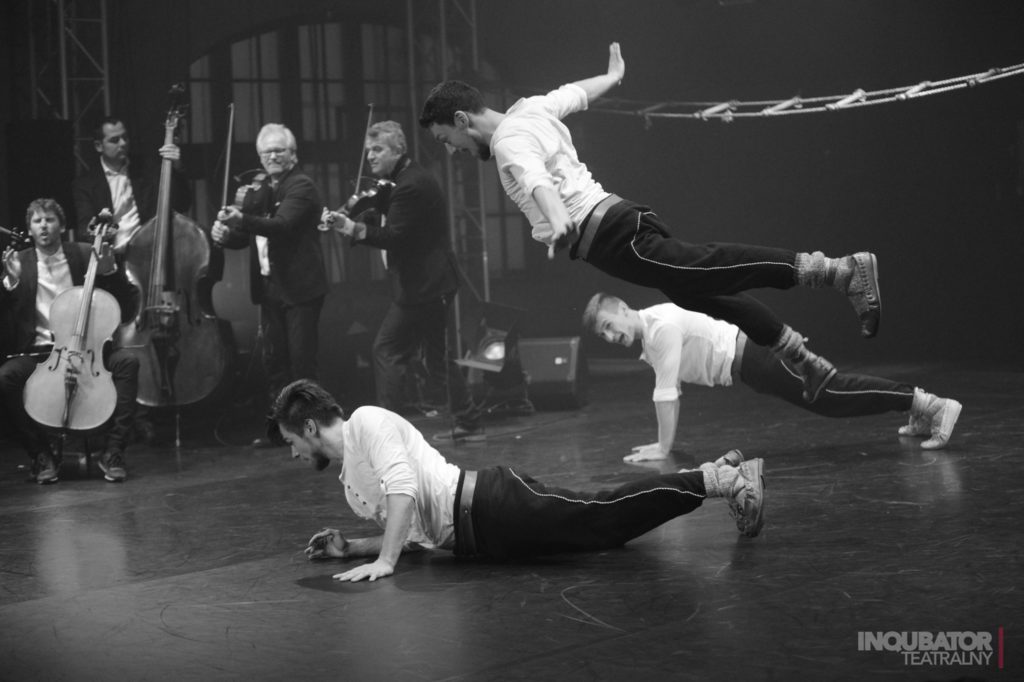 1725 m.a.s.l.,
photo Tomasz Baran, BesKitu
A graduate of the the Ludwik Solski State Drama School in Kraków, Joanna Chułek received the Silesian Marshal of the Silesian Voivodeship Golden Mask for Choreography for the performance 'Heimsuchung'. She is fascinated by Polish folklore, especially the culture of the Żywiec and Podhale regions. She directed and choreographed '1725 Metres Above Sea Level', inspired by the culture of the Żywiec Beskids. In this performance, she combines elements of traditional regional dances with modern dance.

Performance
1725 m.a.s.l.
Company
BesKitu
Credits
Bartłomiej Mieszczak

Actor

Joanna Chułek

Director, actress

Katarzyna Pawłowska

Actress

Jakub Kruczek

Actor

Anna Kamińska

Actress

Filip Meyer-Luters

Actor

Zbigniew Michałek

Musician – violin, VOŁOSI group

Krzysztof Lasoń

Musician – violin, VOŁOSI group

Stanisław Lasoń Lasoń

Musician – cello, VOŁOSI group

Jan Kaczmarzyk

Musician – viola, gajdy (bagpipe), VOŁOSI group

Robert Waszut

Musician – double bass, VOŁOSI group

Paweł Murlik

Lighting director

Oscar Mafa

Actor
Performance synopsis
'1725 m above sea level' presents a unique image of rich mountain folklore in completely non-stereotypical way. The creators of the show draw from the tradition and the cultural background of Żywiec region. Thanks to this, they are able to deepen the identity of 'mountain people', but as we might suppose, they do so in completely different way – through a form of dialogue in the medium of modern dance theatre. The discussion in based on present state of traditions and their future.
Duration

50"

Crew *

13

Artists

11

Premiere

2016-10-16, Bytom

Audience

everyone (regardless of age)
* cast plus technical support
This information has been provided by the person or organisation in question.
The National Institute of Music and Dance and the Adam Mickiewicz Institute
are not responsible for its contents.