NGOs
Art Fraction Foundation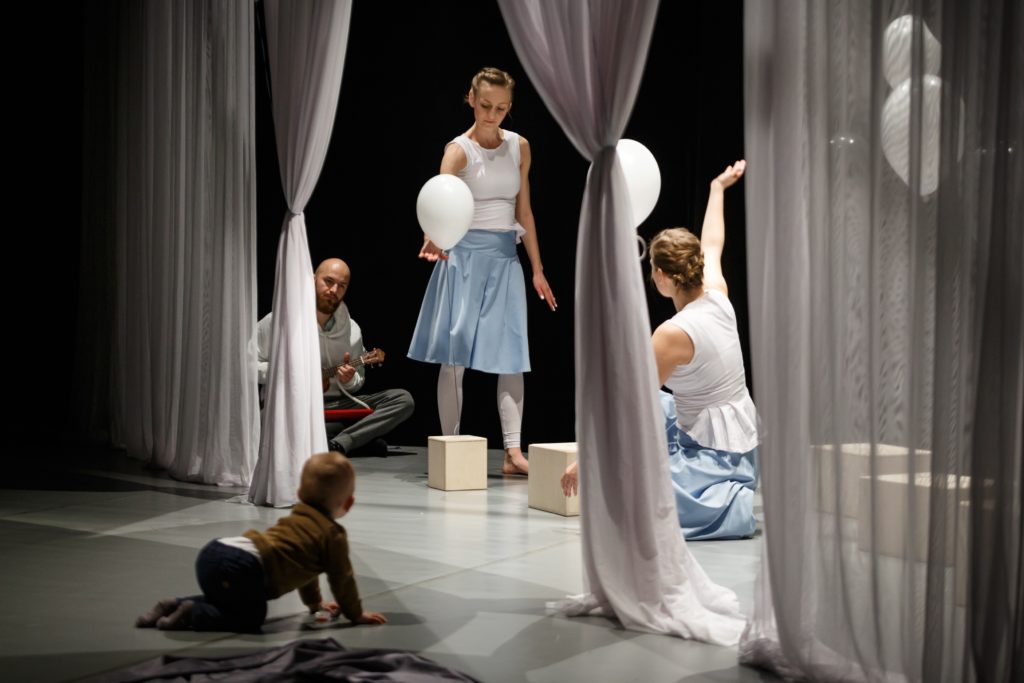 Kuuki ,
photo Piotr Bedliński, dla Festiwalu Sztuka Szuka Malucha
AFF operates in the area of ​​art and culture for children. It organises the largest and oldest international festival for children in Poland, Sztuka Szuka Malucha (Art Seeks the Little One). The festival is one of the partners of the European 'Small Size, Performing Arts for Early Years' project, which promotes art for the very youngest in the world. It conducts mentoring activities and produces performances and installations for children.

Events
FRATZ International
2019, Berlin
ricca ricca*festa (the International Theater Festival Okinawa for Young Audiences)
2019, Okinawa
The National Stage, Bergen
2019, Bergen
The National Stage, Bergen
2018, Bergen
Master class on performing arts for children (B. Małecka, A. Morawska-Rubczak)
2017, Tokyo
19th ASSITEJ World Congress
2017, Cape Town
The Kazachny Dzhem Festival
2017, Minsk
Workshops for artists and educators on the performing arts for very young children (B. Małecka, A. Morawska-Rubczak)
2016, Tokyo
Lecture: 'The Early Years Theatre' (B. Małecka, A. Morawska-Rubczak)
2016, Tokyo
Masterclass: Baby and Dance (A. Morawska-Rubczak & M. Kiwak)
2016, Moscow
Prizes
Wroclaw Theatre Award for Alicja Morawska-Rubczak
2018, Wroclaw
Honorable Mention for 'Blisko' at the Internacional Puppet Theatres Festival MEETINGS
2017, Toruń
Super-Bebe Award for 'Close' at the 13th International Theatre Festival for Children '100, 1.000, 1.000.000 Stories'
2017, Bukarest
ASSITEJ Poland Certificate of High Quality and Artistic Level for 'Close'
2017, Warsaw
Performance
Kuuki
Company
Art Fraction Foundation & Japan Union of Theatre Companies for Children and Young People
Credits
Alicja Morawska-Rubczak

Director

Barbara Małecka

Set design

Kanako Kato

Music

Monika Kiwak

Cast (dancer)

Magda Wolnicka

Cast (dancer)

Jakub Drzastwa

Cast (live music)
Performance synopsis
'Kuuki' is the Japanese word for air. It consists of kanji signs defining the sky, the atmosphere and energy. For the artists of this production, 'Kuuki' means above all movement. The dancers and instrumentalists take the viewers on a shared search for materiality in what is so fleeting. They invite the air to be touched, felt, listened to. In this delicate, safe space, they look for mutual experiences and inspire each other. Movement, sound and image – filled with air. For ages 0-18 months.
Duration

45"

Crew *

5

Artists

3

Premiere

2018-07-04, Poznań

Audience

children

Warnings

direct physical contact with audience members
* cast plus technical support
Contact
Promotional details
A Polish-Japanese coproduction dedicated to babies and their nearest and dearest grown-ups.
This information has been provided by the person or organisation in question.
The National Institute of Music and Dance and the Adam Mickiewicz Institute
are not responsible for its contents.